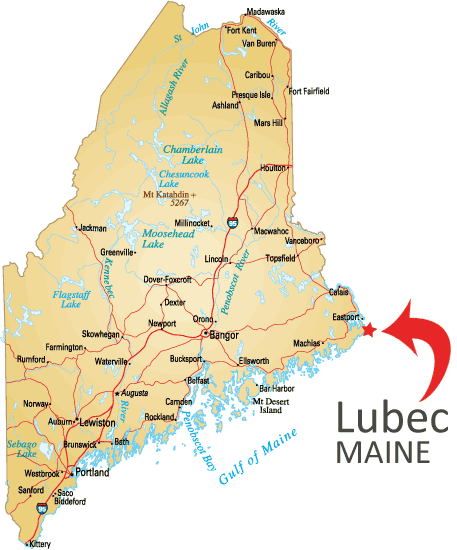 It takes just about five hours to get to Camden, ME from here and another four hours to get to our final destination in Lubec, ME, but it always seemed so much longer a trip than that. In fact, I always thought it was a twelve hour drive, and it could have been with all of the stops that we made and possibly a few wrong turns due to some navigation arguments. We made the trip from Cape Cod to northern Maine to the eastern most town in the U.S. from pre-dawn to dusk on the day before Thanksgiving to visit my grandfather.
I'm sure the goal was to leave by 4:30am, to get most of the driving done during the short amount of daylight in late November. My father was always the one behind this grand idea. But by the time everyone got settled into the car with our heavy winter coats locked in the trunk to make more room in the backseat for all three of us kids, it was probably closer to 5:30am. As we made our way north, through the still sleeping city of Boston, I imagined what life was like in those tall buildings lit up like Christmas trees, and tried to read all of the billboards as we sped through the city. Not long later, as the glamorous city life faded out of site, we eventually made our way to the big rest stop at the New Hampshire/Maine border and knew that we still had many miles and hours to go.
Camden was our lunch destination. A tiny town on the coast with it's quaint harbor and main street of local shops. It was at the harbor where my father parked the car and my mother took the red and white Playmate cooler out of the trunk so we could enjoy our homemade sandwiches as early as 10:30am, before any restaurant would possibly be ready to serve lunch. We unwrapped chicken salad sandwiches on homemade white bread and got to drink a can of Coke or Ginger ale. Wise Potato Chips were an extra treat, something we did not have regularly at home. This was a special, once a year trip, after all. To finish it all up, Val's chocolate chip cookies or brownies studded with semi sweet morsels, but these were an everyday affair as Val always made sure there were sweets in the house for us to snack on. We probably walked around the harbor, checking out the fishing boats that were still in the water, ready to go out and get their catch. It always seemed chilly after sitting in the hot car for so long, fighting for space with my brother and sister, trying to read a book to get through the long ride. I'm sure my father could have stayed for hours, inspecting the skiffs, talking to fisherman, looking at ropes and nets and who knows what else, but my mother was eager to see her father whom she only got to visit maybe twice a year.
Finally arriving in Lubec, after what seemed like many, many hours later, at the home my grandfather made with his wife, Norma was an event in itself. The weather brisk, the sun beginning to set and Norma was hard at work putting the finishing touches on her ladies' hair in the shop that my grandfather built for her attached to their home where you could enter through a door in the living room. We kids had to go in and meet the customers sitting in the chairs, vinyl black capes draped over them, hair in curlers. They all seemed to know our names and ages and so much about us even though we had never met. They said things like, "This must be Karyn!" when talking to my sister and asked me about second grade and my Brownie troop. It was a small town hair salon, where everyone shared everyone else's business, good, bad, happy and sad.
Hungry from our trip and itching to stretch our legs, we helped to bring the bags from the car to the upstairs bedrooms with the dark paneling where we would sleep under the eaves. Then, we got to check out the drawer of sweets and homemade bread filled with Great Grammie's recipe for Date Filled Cookies, brownies, pumpkin bread and so many treats made by Elmira, Norma's cousin and other ladies from church groups and town clubs. There were not too many people who came from as far away as Massachusetts to visit Lubec very often and my grandfather made sure that pretty much everyone in town knew when we would be arriving.
The next day, on Thanksgiving, there was turkey and pies and all of the things that make the holiday special. On Saturday night, we had hot dogs and beans because that's what Grampie and Norma ate every Saturday night. And early Sunday morning, we got ready to head back to Cape Cod. Except for the long trip in the car, the arrival and the departure, the fine details of those Thanksgiving weekends are little fuzzy. I mostly remember the taste of chicken salad on my favorite bread of all time, the salty crunch of the potato chips at our picnic on the harbor, the sweet softness of the date filling in the cookies, my grandfather's silliness, the fun and laughter from one of his endless pranks and Norma saying, "Oh Donald!" in exasperation. Now, the farthest I travel with my own children to celebrate Thanksgiving is four miles down the road to Val's house. There is so much in our culture about travelling on Thanksgiving: "over the river and through the woods" and as much as those trips to Maine are a special part of my childhood memories, I am so very glad that I don't have to go far to celebrate with family and friends. I will just have to make my own picnic lunch on Wednesday, the day before, at Falmouth Harbor, instead.
Chicken Salad
(Makes enough for 4 sandwiches)
2 ribs celery
salt
black pepper
2 split chicken breasts (bone in, skin on)
celery salt
Hellman's mayonnaise (about 1/3 cup)
Heat one inch water in a large sauce pan with a tight fitting lid. Add 1 rib celery, 1 teaspoon salt and 1/2 teaspoon black pepper to the water. Once the water boils, reduce to a simmer and add chicken breasts. Cover tightly and cook for 10-15 minutes until meat is cooked through. Remove from heat and keep chicken in pan with lid on for 5-10 minutes.
While chicken is resting, finely dice remaining rib of celery. Add to a mixing bowl with 1 teaspoon celery salt and 1/4 teaspoon black pepper. Remover meat from chicken bones, discard skin. Finely chop chicken meat and add to the bowl. Mix in just enough mayonnaise to hold chicken salad together. Taste and adjust seasonings by adding more celery salt and/or black pepper.
To make sandwiches, spread 1/4 chicken salad on one slice of bread and top with a second slice. Cut in half and wrap in wax paper.